First performance of AttEtude #2 for string quartet by New York Miniaturist Ensemble at The Chelsea Art Museum, New York, 12th May 2007
This is a computer rendered version. (Unfortunately there is no live recording from the concert):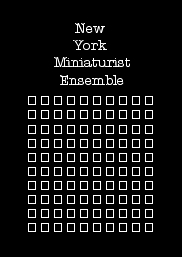 The New York Miniaturist Ensemble was dedicated to performing works composed of 100 notes or fewer.
The group was active from 2004-2010. Famous for the 100-note limit they placed on pieces they played, the Miniaturists delved into new works and favorites from their repertoire while listeners enjoyed complimentary wine and cheese.
During their active period, they performed music by over 80 living composers from around the globe and has premiered over 100 new works.
Here is a list of works performed by the NYME.
Erik Carlson – violin (founder and director)
Claire Bryant – cello
Michael Caterisano – percussion
Philip Fisher – piano
Sarah Frisof – flute
Joshua Rubin – clarinet
Tawnya Popoff – viola
Yonah Zur – violin