Ensemble Di Musica Contemporanea performed Kaliyuga in Perugia, Italy – 5th dec 2003.
Conductor Tonino Battista.
A concert with mostly Swedish music.
More info about Kaliyuga here!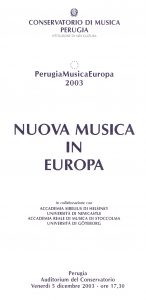 On the program was also music by Bengt Lundin, Einar Nielsen, Kristian Bredin, Jonathan Clark, Franco Donatoni, Wilhelm Stenhammar, Hans Eklund, Claude Debussy and Fernando Sulpizi.